Civil Engineering
About the Department
The Department has Well Qualified and committed teaching and non teaching staff and contribute to the overall development of the students. The department has Civil Engineering Forum to provide Platform to conduct curricular and Co-Curricular activities.
B.E. in Civil engineering
M.Tech.in Computer Aided design of Structures
M.Tech.in Environmental Engineering
M.Sc.(Engineering) by Research
Ph.D Programme
Laboratories
Survey Laboratory
The survey laboratory has instruments for conducting chain, compass, plane table and leveling survey. The laboratory also has theodalite, tachometers and other modem instruments like digital leveling instruments and total station instrument along with software and plotter.
Soil Mechanics Laboratory
The Soil Mechanics Laboratory which is now being called as Geotechnical Engineering Laboratory is well equipped with all required apparatus and machineries for testing the soil strength and characteristics as per IS specifications. The Laboratory is equipped with digital Triaxial testing apparatus, Direct shear apparatus, UCC test apparatus, consolidation test apparatus, etc. Under MODROB Scheme of AICTE this laboratory has received nine lakks grants for acquiring various field testing equipments suck as Plate load test apparatus, Static cone penetrometer, etc. The laboratory is doing good consultancy services in the field of Geotechnical Engineering.
Concrete and Highway Materials Laboratory
The laboratory has equipment for conducting the tests on cement, cement mortar and concrete. Equipment for can'ying out tests on highway materials are Attrition test, Abarsion test, Sieve analysis etc. This lab is also equipped with Ductility apparatus for testing the Bituminous material. The laboratory is equipped with 200 tonne compression loading frame for testing structural components.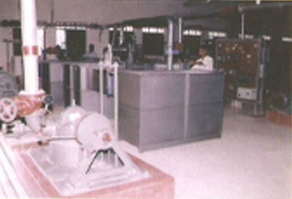 Environmental Engineering Laboratory
The environmental Engineering Laboratory has facilities to conduct the experiments as per the syllabi such as water and waste water testing for its physical, chemical, Biological characteristics. Advanced equipments such as Dual Ion analyser, Atomic Absorption Spectrophometer(AAS), Flame photometer, water analysis Kit, UV Spectrophotometer, Conductivity meter, Digital Photometer, DO Analyser meter and Gas Chromotograph etc.
Structural Laboratory
Facilities such as Beggs Daformometer, Load Cells for conducting experiments on the behavior of structures, frames, trusses, beams and arches are available. Wire models are also available for model studies.
Hydraulics Laboratory
The laboratory has facilities for conducting experiments on flow measurement devices such as notches, weirs, sluices, siphons, orifices, mouth piece venturi meters, friction through pipes, Bernanllis, apparatus, Reynolds apparatus. The laboratory is also equipped with tilting flume with testing section 330x60 cm.
Hydraulic Machinery Laboratory
The laboratory is equipped with wide range of turbines such as Pelton, Francis and Kaplan turbine with electrical loading is available. Range of pumps such as reciprocating, plunger gear and centrifugal pumps are available. Apparatus for study of impact ofjet on vanes are also available.
Strength Of Materials Laboratory
The laboratory has a full range of imported equipment for determination of mechanical properties of materials. The laboratory has Universal testing Machine of 10,60 and 10 tone capacity with all standard accessories. Other equipments like Hardness Testing Machine (Francoscope, Brinell and Rockwell) and Spring Testing machine, Fatigue Testing Machine and impact testing machines are also available. A small workshop is also attached to the laboratory for preparation of specimens.
Computer Centre
Civil Engineeiing depart ment has its own computer centre to train 15 to 20 students at a time. It also has computing and printing facilities. It provides 'NISA' Plat form for the benefit of PG students. The laboratory have added up 20 new corn puter and workstations.
Centre for Environmental Science and Engineering
The centre have modern facility to handle environmental issues and solutions. The Laboratory has the facility to carryout project work forP.G. andU.G. students.
Consultancy Centre
The Civil flgineerng department has good consultancy centre and actively involved in undertaking various types of workspertaining to soil and foundations, cement and concrete tests, steel and building materials, water quality tests and irrigation projects. The services of the consultancy centre are being catering to Private and Government departments.
Engineering Geology Laboratory
Faculty in-Charge
Dr. Muzzamil Ahamed,M.Sc,Ph.D
Associate Professor
The Engineering Geology is offered to Civil Engineering course in 111 and IV Semester. Geology has very wide application in the field of Civil Engineering. It contributes substantially towards the economy and stability of different Civil Engineering projects. Therefore, their stability and safety dpends on the competence of the situ rocks of the sites concerned. This subjects deals with the geotechnical study of the sites and location of major Engineering projects such as Dams, reservoirs, tunnels, roads, and bridges which are indispensable for achieving prosperity and seifreliance.
The Geology museum is well equipped with Minerals, Rocks and other different models related to Civil Engineering to teach laboratory classes.
Dr.D.S.Prakash

Professor
Dr.K.Revanasiddappa

Professor
Dr.H.R.Prabhakar

Professor
Dr.N.T.Manjunath

Professor
Dr.K.M.Shyamsundar

Professor
Dr.K.Krishnegowda

Professor
Dr.K.Manjunatha

Professor
Dr.D.P.Nagarajappa

Professor
Mr.B.M.Manjunatha

Associate Professor
Mr.M.Mallesh

Associate Professor
Mr.V.K.Kulkarni

Associate Professor
Ms Eramma H.

Associate Professor
Dr.B.Lokeshappa

Associate Professor
Dr Tejaswini N Bhagwat

Associate Professor
Ms C.M.Ravikumar

Assistant Professor
Ms Rashma Shetty

Assistant Professor
Mr Madhukaran

Assistant Professor
Sri.R.Hanumanthappa

Instructor
Sri.K.Basavaraja

Instructor
Sri.A.R.Aruna

Assistant Instructor
Sri.N.Narappa

Assistant Instructor
Sri.Akki Basavaraj

Assistant Instructor
Sri.H.V.Nagaraja

Assistant Instructor
Sri.R.Veeresh

Mechanic
Sri.G.Basavaraj

Mechanic
Sri.G.R.Vijay

Mechanic
Sri.N.Revanasiddappa

Mechanic