Electrical & Electronics Engineering
About the Department
The Department of Electrical Engineering (presently called Department of Studies in Electrical and Electronics Engineering, E & E) is one of the oldest departments in the college. It was started in the year 1957. M.Tech program in power systems and power electronics was started in the year 2004 by Kuvempu University and at present (from 2011 onwards) the department offers M. Tech program in Power Systems Engineering. The department also offers research programs in E & E Engg. (MS by research and Ph.D program)
The department has dedicated faculties. Most of the faculty members of the department have obtained their M. Tech and Ph.D degrees from IITs & IISc of our country.
The department has established many laboratories to cater to the needs of the present day syllabus. The department has power systems simulation laboratory, electrical machinery laboratory, electrical measurements laboratory, high voltage laboratory, electronics and microprocessor/microcontroller laboratory and computer center. Under the MODROBS scheme of AICTE, New Delhi, modern power system simulation lab has been recently set up and also new equipments and instruments are procured for electronics lab. Under TEQIP grants, new equipments are procured for high volt laboratory. Software packages on PSPICE, matlab and Mi-Power are available at the computer center of the department. The internet facility is available at the department computer center.
The department also undertakes testing of electrical equipment from public and private organization under college consultancy centre.
The department has students association, in the name of Forum of Electrical and Electronics Engineering (FEEE). The FEEE activities started in the year 1980 and since its inception, FEEE supports extra and co-curricular activities among students of E & E Engineering. Through this FEEE, many technical activities are organized by the students. The department has a separate forum library equipped with large collection of different text books.
Also, department organized many seminars and workshops for benefit of faculty members of various engineering colleges through TEQIP program.
The department maintains its own website http://www.ubdtee.in/ and students can find more information in this web page.
Vision
From Basics of Science To Frontiers of Technology
Mission
To Teach, Guide, Motivate and Prepare Students to Become Self Sufficient Engineers
B.E. in Electrical and Electrical engineering
M.Tech.in Power Systems
M.Sc.(Engineering) by Research
Ph.D Programme
Laboratories
Survey Laboratory
The survey laboratory has instruments for conducting chain, compass, plane table and leveling survey. The laboratory also has theodalite, tachometers and other modem instruments like digital leveling instruments and total station instrument along with software and plotter.
Soil Mechanics Laboratory
The Soil Mechanics Laboratory which is now being called as Geotechnical Engineering Laboratory is well equipped with all required apparatus and machineries for testing the soil strength and characteristics as per IS specifications. The Laboratory is equipped with digital Triaxial testing apparatus, Direct shear apparatus, UCC test apparatus, consolidation test apparatus, etc. Under MODROB Scheme of AICTE this laboratory has received nine lakks grants for acquiring various field testing equipments suck as Plate load test apparatus, Static cone penetrometer, etc. The laboratory is doing good consultancy services in the field of Geotechnical Engineering.
Concrete and Highway Materials Laboratory
The laboratory has equipment for conducting the tests on cement, cement mortar and concrete. Equipment for can'ying out tests on highway materials are Attrition test, Abarsion test, Sieve analysis etc. This lab is also equipped with Ductility apparatus for testing the Bituminous material. The laboratory is equipped with 200 tonne compression loading frame for testing structural components.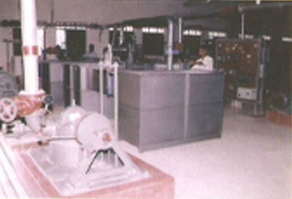 Environmental Engineering Laboratory
The environmental Engineering Laboratory has facilities to conduct the experiments as per the syllabi such as water and waste water testing for its physical, chemical, Biological characteristics. Advanced equipments such as Dual Ion analyser, Atomic Absorption Spectrophometer(AAS), Flame photometer, water analysis Kit, UV Spectrophotometer, Conductivity meter, Digital Photometer, DO Analyser meter and Gas Chromotograph etc.
Structural Laboratory
Facilities such as Beggs Daformometer, Load Cells for conducting experiments on the behavior of structures, frames, trusses, beams and arches are available. Wire models are also available for model studies.
Hydraulics Laboratory
The laboratory has facilities for conducting experiments on flow measurement devices such as notches, weirs, sluices, siphons, orifices, mouth piece venturi meters, friction through pipes, Bernanllis, apparatus, Reynolds apparatus. The laboratory is also equipped with tilting flume with testing section 330x60 cm.
Hydraulic Machinery Laboratory
The laboratory is equipped with wide range of turbines such as Pelton, Francis and Kaplan turbine with electrical loading is available. Range of pumps such as reciprocating, plunger gear and centrifugal pumps are available. Apparatus for study of impact ofjet on vanes are also available.
Strength Of Materials Laboratory
The laboratory has a full range of imported equipment for determination of mechanical properties of materials. The laboratory has Universal testing Machine of 10,60 and 10 tone capacity with all standard accessories. Other equipments like Hardness Testing Machine (Francoscope, Brinell and Rockwell) and Spring Testing machine, Fatigue Testing Machine and impact testing machines are also available. A small workshop is also attached to the laboratory for preparation of specimens.
Computer Centre
Civil Engineeiing depart ment has its own computer centre to train 15 to 20 students at a time. It also has computing and printing facilities. It provides 'NISA' Plat form for the benefit of PG students. The laboratory have added up 20 new corn puter and workstations.
Centre for Environmental Science and Engineering
The centre have modern facility to handle environmental issues and solutions. The Laboratory has the facility to carryout project work forP.G. andU.G. students.
Consultancy Centre
The Civil flgineerng department has good consultancy centre and actively involved in undertaking various types of workspertaining to soil and foundations, cement and concrete tests, steel and building materials, water quality tests and irrigation projects. The services of the consultancy centre are being catering to Private and Government departments.
Engineering Geology Laboratory
Faculty in-Charge
Dr. Muzzamil Ahamed,M.Sc,Ph.D
Associate Professor
The Engineering Geology is offered to Civil Engineering course in 111 and IV Semester. Geology has very wide application in the field of Civil Engineering. It contributes substantially towards the economy and stability of different Civil Engineering projects. Therefore, their stability and safety dpends on the competence of the situ rocks of the sites concerned. This subjects deals with the geotechnical study of the sites and location of major Engineering projects such as Dams, reservoirs, tunnels, roads, and bridges which are indispensable for achieving prosperity and seifreliance.
The Geology museum is well equipped with Minerals, Rocks and other different models related to Civil Engineering to teach laboratory classes.
Dr. Banakara Basavaraja

BE,ME,MBA(HR),Ph.D(NITW),Senior Member IEEE, LMISTE, Fellow IACSIT , MIAENG, Fellow IEI,

HOD
Dr.H.R.Sudarshan Reddy

B.E.,M.E.,Ph.D.,FIE.

Professor
Dr.D.Sathyanarayana

B.E, ME

Professor
Sri.G.N.Madhu

BE. M.Tech.,

Associate Professor
Sri.S.Gopala Krishna

Associate Professor
Smt.A.V.Malini

M.E,

Associate Professor
Sri.C.R.Sharada Prasad

BE, M.Tech

Associate Professor
Sri.H.N.Ashoka

BE, MSc(Engg) by Research

Associate Professor
Dr.K.S.Aprameya

Associate Professor
Sri.H.C.Mouneshwarchar

B.E., M.Tech.,(Ph.D.).,

Associate Professor
Dr.Ashoka Kusagur

M.Tech, Ph.D,

Associate Professor
Ms.Rekha G.Padaki

Bachelor Of Engineering in Electrical & Electronics Master Of Technology in Power & Energy Systems

Assistant Professor
Sri.R.P.Shashidhara

DEE

Forman
Smt.G.H.Sujatha

Diploma in Electronics & Communication Engg.

Forman
Sri.Suresh Chavadi

J.O.C (Electrical)

Assistant Instructor
Sri.O.M.Nagarajappa

I.T.I

Mechanic
Sri.Sanjeevaiah

Supervisor