Mechanical Engineering
About the Department
The Department of Mechanical Engineering was the second department to start operation and ever sinceits inception has maintained an excellent record in quality of education that is imparted. The department has 9 doctorate holders and 2 are in the verge of completing their Ph.D Ddegree and the remaining faculty are having post graduation in different specialization.
B.E. in Mechanical engineering
M.Tech.in Machine design
M.Tech.in Thermal Power Engineering
M.Sc.(Engineering) by Research
Ph.D Programme
Laboratories
Dynamics and Control Systems Laboratory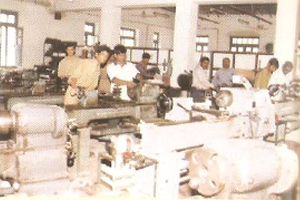 It is a well equipped laboratory and has vibration test rig. Vibration analysers, dynamic balancing machine for rotors with microprocessor instrumentation, exciter, vibration pickup apparatus to study whirling of shaft test rigs, hydraulic and pneumatic control system trainer unit, Strobometer, Transducers, Strain Indicators, Sound level meters, Governoi% Gyroscopes, Setup to study the free and forced vibration.
Mechanical Laboratory
This laboratory is equipped with Boiler, Steam Engine, Several Single cylinder heavy duty oil engines, multi cylinder petrol engine, multi fuel variable compressor, blower, water turbines such as Pelton, Francis and Kaplan, Refrigeration unit, etc., on which performance evaluation tests can be carried out.
In addition, facilities to conduct experiments on solid fuel, liquid fuel, lubricants, foundry sand, etc.. are also available. Equipment to study heat transfer phenomena and evaluate the heat transfer coefficient for the cases of conduction, convection and radiation are also available.
Machine Shops
Department has two machine shops equipped with lathes, milling machines, planning machines, shaping machines, slotting machines grinding machines engraving machine, drilling machines, turning centre etc., on which training is imparted to students. In addition, facilities such as tool and cutter grinder, Spark Erosion Machine, power hacksaw and large number of precision measuring instruments are also available.
Foundryand Smithy
Foundry section is equipped with Cupola, Oil furnace, Electric furnace, Heat treatment furnace, Jolt moulding machine and large number of moulding boxes, patterns and tools for preparing the models
Welding, Sheet Metaland Plumbing
These sections have facilities for carrying out processes such as arc welding, gas welding, profile gas cutting, soldering, brazing, etc., and equipment like spot welding machine, sheet metal bending machine, shearing machine and large number of hand tools required for welding, sheet metal and plumbing work are also available.
Fitting and Carpentry
Fitting section is equipped with bench vices, leg vices, drilling machine and large number of fitting tools. Carpentry section is well equipped with wood turning lathes, planning machines, band saw machine, slitting saw machine and large number of hand tools such as jackplanes, chisels, etc.
CAD/CAM Laboratory
TThe CAD/ CAM laboratory is equipped with sufficient number of computer and work station. The software like AutoCAD, Hyper mesh Unigraphics, N S Nostron etc., are installed. The laboratory possess qualified and trained faculty.
General
The department is having facilities such as Audio Visual centre, Photographic section, Drafting section etc., and has equipments like camera and film projector and in addition facilities for computer aided drafting, design and analysis are also available.
The department has well qualified, experienced and dedicated teaching and non-teaching staff and contribute to the overall development of the students. The department has Mechanical Engineering Forum to provide platform for curricular and co- curricular activities and sports..
Dr.D.Abdul Buden

B.E., M.E.(IIT Roorkee), Ph.D (Bharathiar University).

Professor
Dr.C.S.Venkatesh

B.E., M.E., Ph.D. (IIT Bombay)

Professor
Dr.E.S.Prakash

Professor
Dr.S.Basavarajappa

Professor
Mr.C.N.Nataraj

B.E., M.Tech (NIT C)

Associate Professor
Mr.Chandradharappa

Associate Professor
Dr.K.Ramesh

Associate Professor
Dr.Irappa Sogalad

D.M.E.,B.E.,M.Tech., Ph.D.

Associate Professor
Mr.H.Basavarajappa

Associate Professor
Mr.Syed Ahamed

B.E., M.Tech (NITK)., (Ph.D.)

Associate Professor
Dr.R.P.Swamy

BE,ME,Ph.D

Associate Professor
Dr.Sreenivasa C.G.

B.E., M.Tech., Ph.D.

Associate Professor
Dr.Mallikarjuna C

Associate Professor
Dr.VijayaKumar

B.E., M.E., Ph.D.

Associate Professor
Mr.Kishan Naik

B.E., M.Tech., Ph.D.

Assistant Professor
Dr.Satish K.G

Assistant Professor
Dr.Mohammed Kalimulla K.

Assistant Professor
Sri.B.Shivanand

Forman
N Manjunath Gowda

M.Tech

Asst Professor
Sri.G.A.Kubera

Instructor
Sri.M.Murigesha

Instructor
Sri.K.Annappaswamy

Instructor
Sri.B.S.Ashoka

Assistant Instructor
Sri.G.Manjunathappa

Assistant Instructor
Sri.T.G.Veerabhadrappa

Assistant Instructor
Sri.B.Nagappa

ITI (Fitter).,DME.

Assistant Instructor
Sri.K.M.Umapathi

Assistant Instructor
Sri.D.N.Govindappa

Mechanic
G.Anjanappa

Peon/Watchman